When you compare MetaTrader 4 and TradingView, the main focus should be their charting tools. Indeed, they have a lot of differences as both of them have their own goals and patterns. But when it comes to the biggest advantage of MT4 against TradingView, it is the direct access of MT4 to the market. This trading platform is so magnificent because it allows its users to place the trades alongside through the use of charting tools.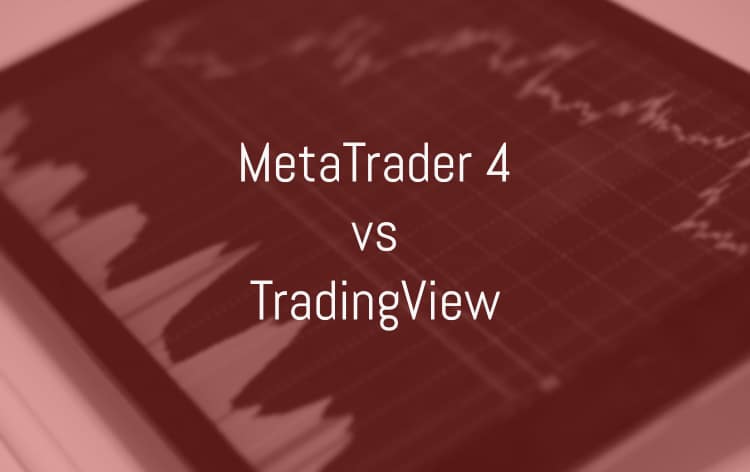 However, it doesn't mean that TradingView doesn't have its own set of advantages against MT4. TradingView actually has more available indicators compared to MT4. In MT4, you only have around 40 indicators that you can buy or make yourself. But with TradingView, the available indicators go up to hundreds.
Another difference between these two trading platforms is the accessibility. In MT4, you will require a broker to register an account with or MetaQuotes which is the software company that develops MT4. But with TradingView, the platform is available online for free. However, if you feel like you want to unlock other new features, you first need to pay for the upgraded version,
Despite the pros and cons cited above, there is actually no reason to choose one from these trading platforms because you can use them together. You can do charting on TradingView and trade on MT4. This method is very popular nowadays.
But if you like it less hassle and only use one trading platform, then you have to check the detailed pros and cons of MT4 and TradingView trading platforms.
Advantages and Disadvantages of TradingView and MT4
MetaTrader 4 Advantages
● Remarkable Performance
The performance of MT4 is just flawless.
● Direct Access to the Financial Market
As mentioned above, MT4 places orders alongside the market. This feature is really convenient because it's not time-consuming.
● Simple Design
Because MT4 is known to be one of the very first trading platforms made available, other traders might look at its design as something that's outdated. But this design is embraced by the trading community because it is less hassle in MT4.
MetaTrader 4 Cons
● Timeframes
MT4 only has 9 timeframes.
● Lack of Indicator
MT4 only has 40 trading indicators which might look too small for other traders.
● Limited Instruments
MT4 is tied with the broker. If the broker doesn't have USD/JPY on their platform and you cannot analyze or do charts on MT4.
TradingView Advantages
● Availability of Almost All Instruments
You don't have to be tied to a broker to use TradingView. This means that you can have all the instruments available in the market.
● No Registration
Registration works differently in TradingView. The platform is offered free for all traders but you have to register and pay some fees if you want some features to get unlocked.
● The Community
The community in TradingView is truly remarkable. They help one another, especially new traders to know the platform.
TradingView Cons
● No Direct Access to the Market
● Slightly Unstable
Those are the advantages and disadvantages of MetaTrader 4 and TradingView. Now, it's your time to decide which platform matches your style.